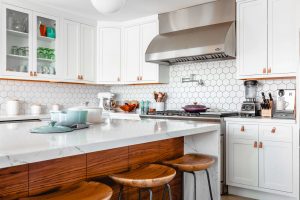 It's hard to think of any business which does not need reviews in this day and age. Reviews drive customers' decisions and tell them the truth about your business. The home service industry is no different. If anything, reviews are vital to the success of your home service business.
The home service industry is extremely diverse; from plumbing services to electricity, cleaning, handyman, lawn care and more. This diversity makes it a more competitive environment. You probably have the same methods of finding new clients and these clients always like to choose based on price and reviews.
Here are some statistics that show the importance of reviews for home service companies:
87% of customers look out for the quality of service provided.
78% of customers look out for the cost of the service.
So you can see that reviews can get you more clients and higher pay as a home service provider.
Common Problems Home Service Companies Face In Their Review Game
Some home service providers don't take reviews very seriously. As you can see above, the stats do not lie about how this affects you. Knowing where your problem starts can help you change your review management game for business success.
You may have too many negative reviews.
This one will be obvious and result in slow to no sales. Negative reviews can be about anything from pricing to quality of service and more. This drives up your marketing cost and the lengths you have to go to convert customers or even gain positive reviews.
You may not be visible
There are several platforms where business reviews can be seen and different customers check these platforms. They include Yelp, Google, Home Advisor, Angie's list, or Houzz. Not being visible on these platforms with positive reviews makes you lose potential clients.
You may consistently deal with the wrong kind of customers
In the home service industry, this can be common. You are meeting customers on a personal level and some may be rude, needy, unreliable, and stubborn. These kinds of customers will consistently leave bad reviews making you seem incompetent. They should be avoided.
The Solution
Increase positive reviews – Most customers will leave a positive review after receiving good service and if you ask them to. As a home service provider, you are lucky enough to come face to face with your customer. Enhance customer service and satisfaction, then remind them to leave a positive review with a warm smile. You can also send friendly emails as a reminder after the job.
Establish a presence for reviews – This is easily done by claiming your listing on all review platforms. Ensure you are consistent with details like business name, address, telephone number, and hours of operation.
Put feedback to good use – Use both bad and good reviews to upgrade your service, check a product line, or address issues with an employee.
The most important aspect of all this is that you don't have to do it alone. Our services provide you with an easy way to reach out to your customers and we're here with you every step of the way. Let us help you build up your online reputation!