Your veterinary practice works hard to provide the best care at competitive prices for your neighborhood's furry family members. You work day after day, performing a variety of tasks from clipping toenails to major surgeries. The majority of your clients rave about your services, but sometimes you get that bad feedback. Oftentimes that feedback is displayed in the form of a public negative review.
What can you do when you get that email notifying you that someone has left a negative review for you on a site like Yelp or Google My Business?
Well, the first thing you should do is remain calm.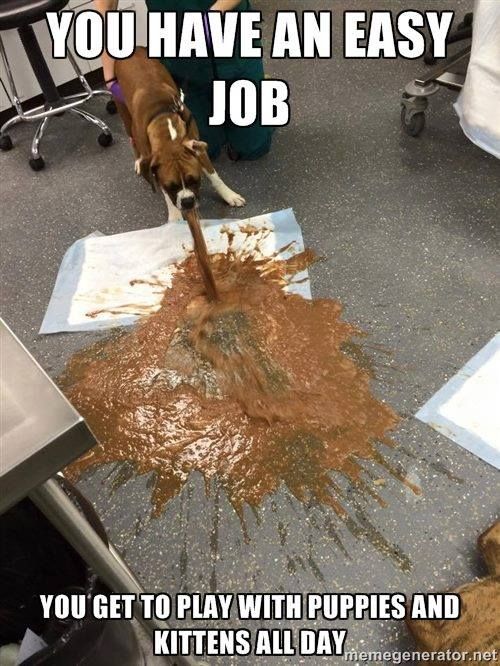 You've been through a lot. You know how to handle stress. When a 70 lb boxer starts emptying out his stomach contents right in your observation room, you don't flinch. Remain calm and gather some facts:
Is this even your actual customer?
If so, what is the complaint about?
Are they mistaken in their complaints?
Do you have facts to back this up?
If the review isn't even from one of your customers, you might be in the clear. Check your records for the name of the reviewer and make sure that situation hasn't happened at your company. If it seems like this reviewer is just out to get you or is coming from a competitor, leave a response similar to this:
"Hey there [name], we're sorry you had a negative experience and would like to make things right. Unfortunately, we can't seem to find your information in our system. If you could contact us at [phone/email], we would love to discuss what we can do to make this situation better for you!"
Helpful Hacks:
Reporting reviews on:
*remember! only report reviews that are not intended for your company!
If this reviewer has been mistaken and left the review for the wrong company, is a competitor trying to stir the pot, or is just a spammer, report the review to the site it was left on. That site should be able to take a look at the review and determine that it was not legitimate and remove it.
Many times when a company receives a negative review, it comes because a customer was in an elevated state of anger. Leaving reviews gives your customer a way to vent and, since it's out there for all to see, makes them feel heard. If you have received a negative review from an actual customer, take a look at what they're complaining about. We've noticed that a lot of negative reviews for veterinarian practices contain the following:
Cost
Unauthorized Care
Unrealistic Expectations
Bedside manner
Assess what they're complaining about and find them in your system. Try to reach out to them privately to fix the problem. Many times customers just want to feel like they're being heard and reaching out to them privately to help will make them happy. Work things out with the customer privately, if possible, and no matter the outcome, leave a calm and sensitive public reply.
If you are able to reach the client and resolve the issue, make sure your public response is factual and supportive. Note that you reached out to them to help and offer additional support if needed. Reaching out to your unhappy customers to resolve the issue will oftentimes result in a change of their negative review. We have even seen 1-star reviews turn into 5-star reviews!
If you are unable to reach the client, leave a calm response inviting them to reach out to you:
"[Name], we are truly sorry that you had a negative experience at [practice name]. It is our goal to ensure the best care for all of our clients. We would love the opportunity to make things right. If there is anything we can do to support you or your fur-babies, please let us know."
This will not only show that client you are trying to make things right but will also show your potential clients you are honest and try to make your clients happy.
The Review Generator is here to help businesses grow their online reviews. Through our program, our clients have seen an increase in reviews on Yelp, Google, and Facebook. Learn more by contacting us via our website, email, or by calling (818) 588-0097.